MAXIMISER LE POTENTIEL DE REVENUS DE VOTRE CABINET GRÂCE AUX OFFRES MARKETING D'INMODE
Une combinaison unique de ressources numériques et imprimés pour permettre à votre cabinet d'optimiser ses offres de pratique
MARKETING INPRACTICE
Le programme InPractice Marketing vise à favoriser le taux de réussite des cabinets en faisant bénéficier les médecins des ressources d'aide à la pratique les plus recherchées au jour d'aujourd'hui.

Les solutions proposés par InMode sont ciblées de manière à répondre aux objectifs spécifiques de chaque cabinet. Aussi, que vous soyez un tout nouveau cabinet ou un établissement établi depuis longtemps, nous saurons vous faire bénéficier d'une valeur ajoutée lors de votre achat de matériel InMode.
Documents imprimés à placer en réception pour l'éducation du patient
MODÈLES PRÊTS À L'EMPLOI POUR LES RÉSEAUX SOCIAUX
Modèles pour la communication et la promotion des produits
VIDÉOS MARKETING POUR LA SALLE D'ATTENTE
Vidéos en boucle pour l'engagement des patients en salle de réception ou sur les sites Internet
Modèles avec l'identité du cabinet pour le placement rapide de publicités
PARTENARIATS STRATÉGIQUES
Contactez-nous pour en savoir plus sur les partenaires InMode qui peuvent vous aider en termes de stratégie, événementiels, design et bien plus encore
VIDÉOS DE TRAITEMENTS CLINIQUES
Vidéos à caractère pédagogique sur les traitements, destinées à former votre personnel
GÉNÉRAL
Ces documents offrent aux cabinets les bases pratiques nécessaires pour commencer à promouvoir leurs offres de traitement. Ces matériaux sont destinés à aider les cliniques à éduquer, promouvoir et sensibiliser sur les procédures InMode. Tous ces éléments peuvent être consultés, téléchargés, imprimés ou personnalisés selon les besoins individuels de chaque cabinet.
EXEMPLES:
• Photos avant-après
• Rapports de traitement
• Manuels cliniques
• Animations
INTERNE
La sensibilisation commence en interne. InMode offre aux cliniques des modèles et du contenu visant à maximiser la capacité de votre clinique à éduquer les patients qui connaissent déjà votre cabinet et qui viennent vous voir dans le cadre d'une autre procédure.
EXEMPLES:
• Modèles de messages sur les réseaux sociaux
• Vidéos destinées aux patients dans la salle d'attente
• Modèles d'e-mail
• Matériels de promotion à afficher en salle de réception
EXTERNE
Faire de la promotion et de la publicité est souvent difficile pour tout cabinet quel qu'il soit. InMode facilite le processus en offrant un certain nombre de matériaux sur-mesure qui peuvent être utilisés tels quels, ou personnalisés et adaptés spécifiquement à votre cabinet. Ceci vous permet d'envisager de nouvelles façons de communiquer avec vos patients, et ce avec un minimum d'effort nécessaire pour démarrer.
EXEMPLES:
• Modèles de publicité imprimée
• Publicité sur panneau d'affichage
• Journées porte ouverte ou événements exceptionnels
• Logos
• Matériaux visuels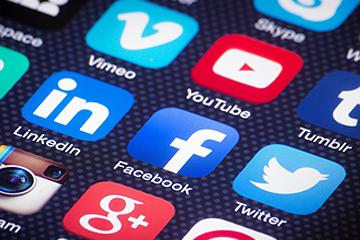 Social Posts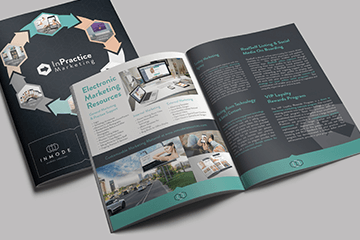 External Marketing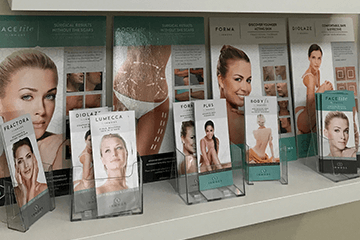 In-Office Branding
Resource Center
Contact us for more information
A dedicated marketing site that provides InMode customers access to marketing assets to build their practice awareness.