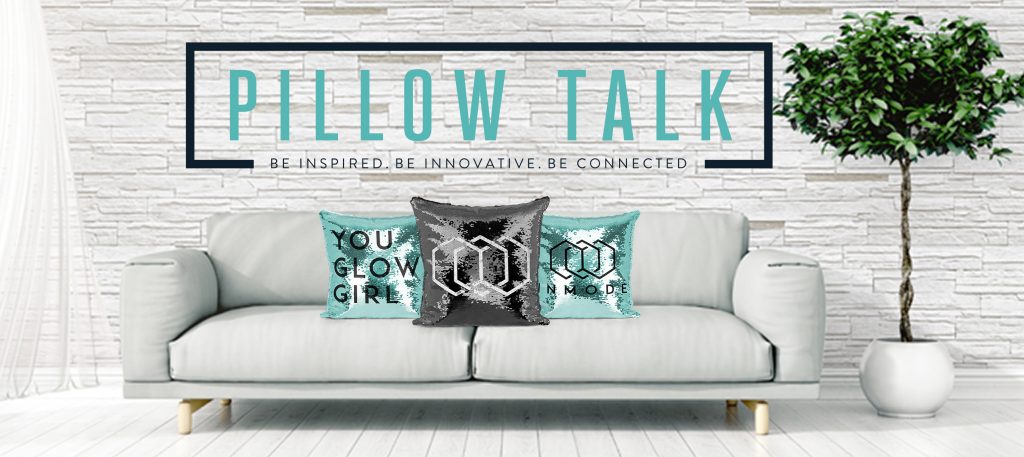 Thank you for being part of the InMode family! We love having such a diverse and passionate crew of InMode users across the globe.
We are excited to announce our 'Pillow Talk' program which allows practices to show their InMode pride and talk to the community about their InMode technology
How To Get Your Very Own Pillow(s):
Encourage patients to fill out a 'Worth It' rating on RealSelf.com. Eligible procedures include Forma, BodyTite, FaceTite, Morpheus8 and Votiva. One review is required.
Upload a Video Post (not Story) on Instagram about your InMode results/experiences/treatment tips. Please tag @inmodeaesthetics and feel free to hashtag the procedure. One video is required.
Visit Survey Monkey and submit the above two posts and select your fabulous pillow!
Information on How Patients Can Write a Review on RealSelf.com:
Visit the RealSelf website, and click 'Start Your Review'. Choose your procedure (eligible InMode procedures include Forma, BodyTite, FaceTite, Morpheus8 and Votiva). Rate the procedure as 'Worth It' if you loved the results, and feel free to attribute it to your favorite practice! If you haven't created a review in the past, RealSelf will require you to create and confirm your email account after you fill out the review form.
Frequently Asked Questions
Can I get more than one pillow?
Yes, we are not limiting the number of pillows. One RealSelf Post + One Instagram Post = One Pillow. Feel free to ask as many InMode patients to complete the review and upload as many video posts as you would like!
What should I include in my Instagram Video Post?
Feel free to share anything that you think would be useful for patients to know about the procedure. We welcome you to include doctors, nurses, technicians, patient co-ordinators and patients in the video! NOTE: Once uploaded, these videos are public and can be used in reshares, highlights, or re-use by InMode.
Some ideas can include: 
– What are typical results?
– How do you maximize your treatment results (treatment tips or advice)?
– What are benefits of the treatment?
– Your favorite thing about your InMode technology.
How do I get started?
Ask your patients for reviews and start preparing your video! Once the review has been made then visit
Survey Monkey
to submit all the content to InMode. You will receive confirmation shortly after your submission.
How long does this promotion last?
This promotion runs until June 30 2019. Pillows should be received by mid June.
If you still have questions, reach out to us at info@inmodemd.com