How does it work
The Triton's multi-wavelength functionality allows practitioners to emit three of the most popular wavelengths for hair removal. This innovative feature allows concurrent emission of Alexandrite and Diode or Nd:YAG and Diode in a single pulse. This ensures the Triton is the only hair removal workstation that any clinic requires, allowing for the treatment of all hair and skin types, without compromising safety or efficacy.
In the past, lasers had to reduce peak power or increase pulse width to reduce the risk for postinflammatory hyperpigmentation (PIH) in darker skin types. Now with the Triton, high power and a blend of wavelengths are optimized make this the ultimate system for hair removal.
FUSION OF WAVELENGTHS
The mosaic combination of wavelengths address hair removal at different stages of the hair growth cycle, without increasing the pulse duration and reducing the peak power. This means hair at deeper depths can be treated at the same time as newly emerging hair. Thus patients can see greater results in fewer sessions.
---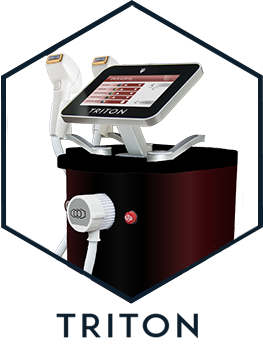 WORKSTATIONS
The Triton is a fast, high powered, safe and comfortable treatment that offers an innovative solution to any practice interested in maximizing the hair removal market. According to the American Society of Aesthetic Plastic Surgery 2017 survey, hair removal is the number one sought after energy-based aesthetic procedure in the world. Today 80 million women spend over $500 million on shaving, waxing and hair removal options. This market could mean an astronomical increase in practice revenues by offering patients fast, safe and easy Triton hair removal options
Triton Duo Light:
More effective for light and fine hair
More effective for skin types I to III
Can be optimized for all skin types, all hair colors and hair thicknesses
Triton Duo Dark:
Highly effective and safe for dark skin up to skin type VI
High peak power
Can be optimized for tanned skin
Patient Benefits:
A broader range of patient concerns can be covered with this innovative, effective and attractive platform:
Light hair or skin
Dark hair or skin, including skin type IV
Fine or coarse hair
Medium complexion and thickness
Stubborn hair
Treat legs in 20 – 30 minutes
A broader range of patient concerns can be covered with this innovative, effective and attractive platform
Specifications
Triton Duo Light
Triton Duo Dark
Three Wavelengths:
755 nm and 810 nm
Alexandrite and Diode
810 nm and 1064 nm
Diode and Nd:YAG
Output:
Simultaneous Blend
Pulse Duration:
Short and Long
Repetition Rate:
Single, 1 pulse per second, 2 pulses per second, Glide up to 5 pulses per second
Spot Size:
12 mm X 26 mm (3 cm2)
Cooling:
Normal cooling for superficial hair
Strong cooling at maximal energy and any environmental conditions
Fluence:
5-40 J/cm2
Footprint:
Compact and light-weight